This 2 ingredient dough is so amazing and you can make so much with it. Like I've said in a previous post, I've bought so many containers of greek yogurt and when I run out of my self-rising flour, I'm just going to go back to all-purpose flour because you just need to add a tsp of baking powder to the mix. So far, I've made bagels, pizza, and cinnamon rolls and now I'm giving you a recipe for cheesy breadsticks. This is my favorite recipe so far and one breadstick is only 1 smart point. Yes, you can eat cheesy garlic bread sticks on a diet!
After you make the dough, roll it out and transfer it to a baking sheet. Spray the dough with butter spray. Mix the mozzarella with basil and garlic powder in a bowl and sprinkle that on top of the dough. Bake at 400 degrees for 15 minutes. The dough will be golden brown on the bottom. What else could you possible make this dough? There are endless possibilities and it's so fun to mess around with.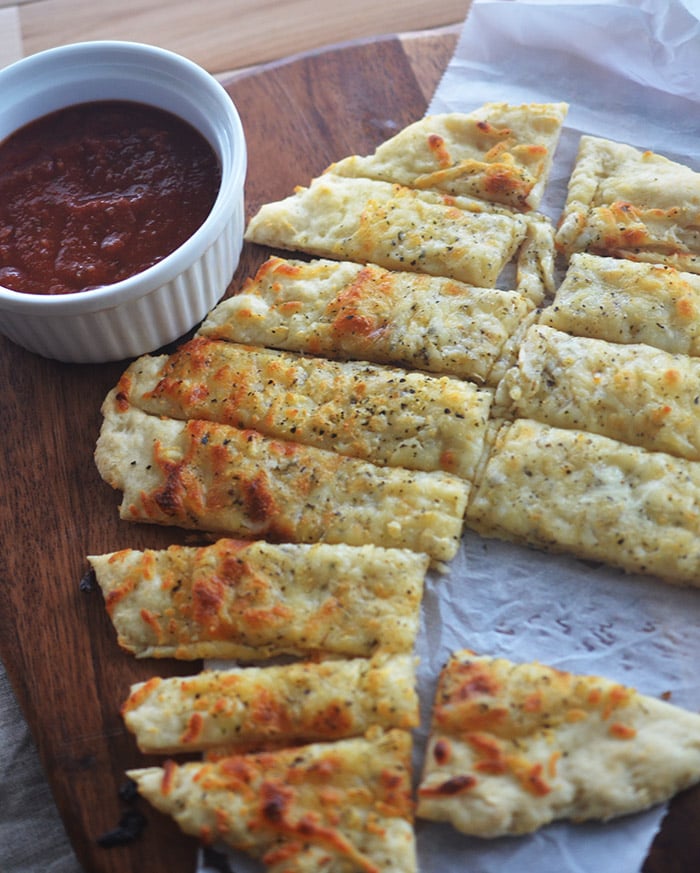 Ingredients [ For 4 to 5 people ] [ Preparation time : 12 minute – Cooking time : 55 minutes ]
1 cup of greek yogurt
1 cup of self-rising flour
1 cup of part skim mozzarella cheese
1 tsp of basil
1 tsp of garlic powder
15 sprays of butter spray
Preparation Method
In a medium bowl mix the greek yogurt and self-rising flour until well combined.
Spread the dough out onto a floured works surface.
Coat a rolling pin with flour and begin to roll the dough out into an oval shape.
Transfer the dough to a baking sheet and spritz the dough with butter spray.
Spread the cheese on top of the dough and bake at 400 degrees for 15 minutes.
Serve with marinara sauce.
Enjoy it!!!